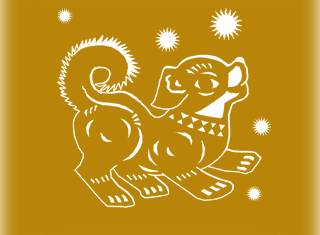 Catalog of thematic calendars, lunar calendars for 2018. Entries in the blog.
2018 - Heavenly trunk "Earth", the earthly branch "The Dog"
On February 16, 2018, the second new moon after the winter solstice on the eastern (Chinese) lunar cyclical calendar comes the year of the celestial trunk of time "Earth" in the "Jan" stage of the earth branch "Dog", 35th year of the 34th cycle of the new calendar.
"Earth" is a symbol of the Celestial current of the coming year, carries with it the properties of the same-named primary element: the control direction is the Center; Characteristic colors - yellow, brown and solid; the presence of this element in a person means endurance, fertility, diligence and strategic thinking.
All the signs of the earthly branch are the product of the celestial trunks, so the branch of the "Dog" 戌 inherits the signs of the originating trunk-element "Earth" in the "Yan" stage, it also has some qualities of the real earthly collective image of the dog, in the Oriental view it is: honesty, sense of justice, simplicity, loyalty, attractiveness, friendliness, sociability and openness; unpretentiousness, calmness and sensitivity, and on the other side of the medal cynicism, laziness, indifference, pessimism, anxiety, stubbornness and absurdity.
Warning! The work on this page is not yet complete